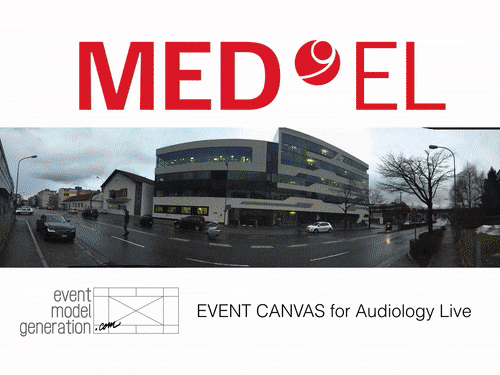 MEDEL EVENT CANVAS
Audiology Live MEDEL the the making of in 1 animated GIF
MEDEL is a global technology company that researches in the field of hearing loss and develops and manufactures implantable hearing systems. 
#EventCanvas for Audiology Live 2015
Audiology Live is a brand new event and is one of the pinnacle events MEDEL
is organizing to reach communicate to their channel. That channel is slowly changing as the care and cure landscape is changing. In the past the surgeons (ENT doctors) were the main channel and decision maker on which implant from which manufacturer was best. In the landscape of tomorrow the decision could easily shift to the audiologists. This trend is already happening in some regions. 
MEDEL is anticipating on this trend. This canvas gives the perspectives of three stakeholders; the audiologist, as a relatively new and upcoming target audience, the perspective of MEDEL as a company and the Area managers of MEDEL in their region responsible for sales and service.